The recruitment process
Embarking on an amazing HR Journey with #KYC Consulting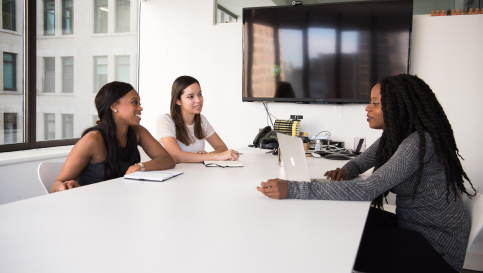 The development of KYC Consulting is based on the recruitment of high talent employees who are passionate about their work and the firm has been from the start committed to developing long- lasting relationships with its employees.
We make every effort to recruit the best talent as well as create a better workplace encouraging them to live a stimulating and enriching professional experience.
Our strategy: To recruit in a measured and selective way experienced consultants, at all levels of seniority, who share the firm's values and who are also ready to commit themselves fully in our projects.
Process
The recruitment
process
Our recruitment process is based on transparency and consists of 3 main stages:
Stage 1 with the HR team:

The purpose of this interview is to get to know you, discover your background, understand your personal motivations and professional expectations as well as analyze your potential as a future consultant in our organization.

Stage 2 with an experienced consultant:

The goal of this interview is to validate your sector and/or functional knowledge, test your methodological competence, analytical skills and your ability to react to a given scenario in order to best target the projects you can be entrusted with.

Final Stage with Top Management:

This interview aims to finalize the application, to determine if you are a good fit to the company culture, the common desire to collaborate and plan ahead in the long term.
This process takes about three weeks. During this period, we make our level best to keep you updated on your application progress.
Apply to
Spontaneous
Application
Testimonials
Our employees
testimonials
Each employee shares its own unique experience at KYC Consulting!

Clotilde Senior Manager
I decided to join the firm after having worked on a similar project with one of the partners. The interaction we had and bond we developed encouraged me to join KYC Consulting. I would say that the company has great human values where it is possible to express oneself, suggest new ideas, learn and evolve. Autonomy and initiatives are encouraged and relevant supports are also provided for those who request for them.

Sébastien Senior Manager
I chose KYC Consulting because I knew its founder and was hired by him at my previous company. We get along well together and share the same values. When he asked me to join him at KYC Consulting, I didn't hesitate! What difference do I see in working at KYC Consulting? It's mainly the atmosphere and a good mindset. We meet regularly for a drink where we get well acquainted with each other and share knowledge. Furthermore, consultants who are willing to help the firm grow are given more responsibilities compared to those who want to limit themselves to their assignment at the clients' premises.

Hedi Senior Manager
I joined KYC Consulting in 2017 and as soon as the recruitment process began, I was attracted by the human values of the firm. Moreover, after five years, I still feel these values and I am proud to be part of KYC Consulting. I'm thinking in particular of the benevolence that we find in our daily relationships, whether between consultants or communications with the management team. On the client's side, KYC Consulting pays particular attention to its interest by selecting consultants with the required abilities with a strong capacity to adapt as the two essential qualities of the profession are humility and empathy.